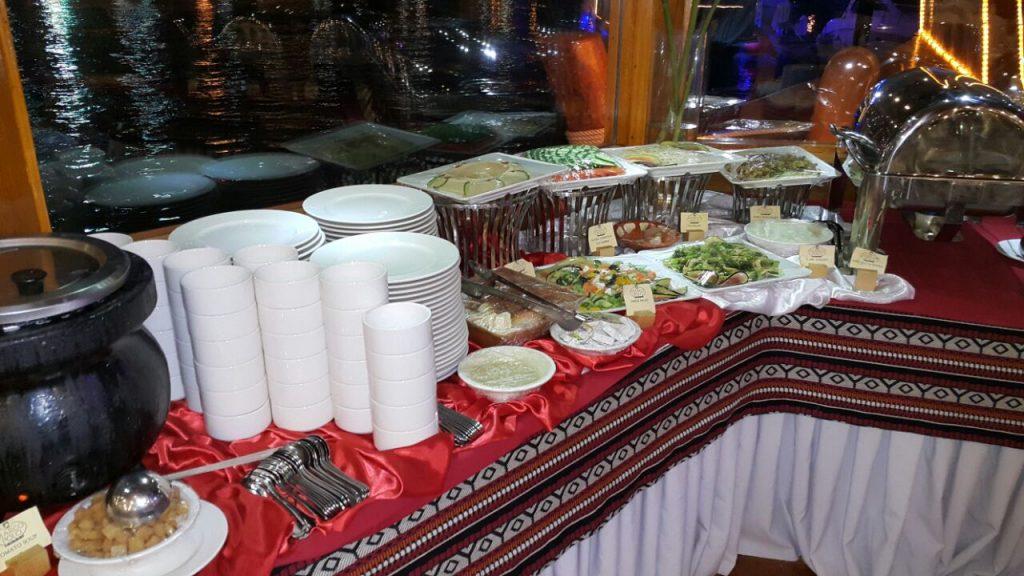 A highlight of your Dubai adventure would dinner on Dhow cruise. A calm, tranquil cruise along the waterways, in a traditional Arabian Dhow, which has been retrofitted with all luxury modern amenities for your comfort, and to add to that, our supreme hospitality at your disposal.
It is a sunset cruise that offers you the ultimate sights of Dubai and its vibrant nightlife. The two hour cruise takes you on a slow and breezy journey along Dubai's waterfront while basking in the evening air, in the presence of your loved ones. The on-board entertainment sets the ambiance for the evening, but the star of the evening is the food. You are offered a welcome drink when you come on board. Once you have set sail, you have access to an array of gourmet dishes specially designed to make your evening spectacular! You have multiple cuisines present, with the inclusion of local emirate specials, so that you have the complete traditional experience. It ends with a magnificent collection of desserts.
Details of the Dhow cruise
You will be picked up from your hotel or any point of origin of your choosing.
The cruise will last about 2 to 3 hours in the evening.
You will be welcomed on-board with an assortment of refreshments, along with a welcome drink, or tea/coffee.
Full access to both the Air-conditioned lower deck, as well as the open air upper deck. Smoking is permissible only on the upper deck, however.
You will have an buffet with an international menu, with a combination of the choicest vegetarian and non-vegetarian dishes, in a lavish spread.
The evening's entertainment includes a musical night and performance by local talent, like the Tanura dance show.
The package is inclusive of a transfer back to your hotel or place of residence
Some things to note:
In case you require a pick-up and drop from any other Emirate, it can be easily arranged for a small extra fee. Contact us and we will make the arrangements.
You may contact our office to know the menu for the evening on your Dhow cruise dinner in Dubai. If you have any special dietary requirements, they can be accommodated upon request.
Details of our cancellation policy:
If, in any case, your trip is canceled more than 48 hours before your booking, Best Dhow Cruise Dubai shall not deduct any cancellation charges, and make a full refund.
If you cancel your trip within 24 to 48 hours before your reservation, a cancellation charge of 50% is applicable.
If your trip is canceled less than 24 hours before your reservation, no refund is applicable.
Any refunds if any, will be done within a period of 7 working days from date of cancellation.