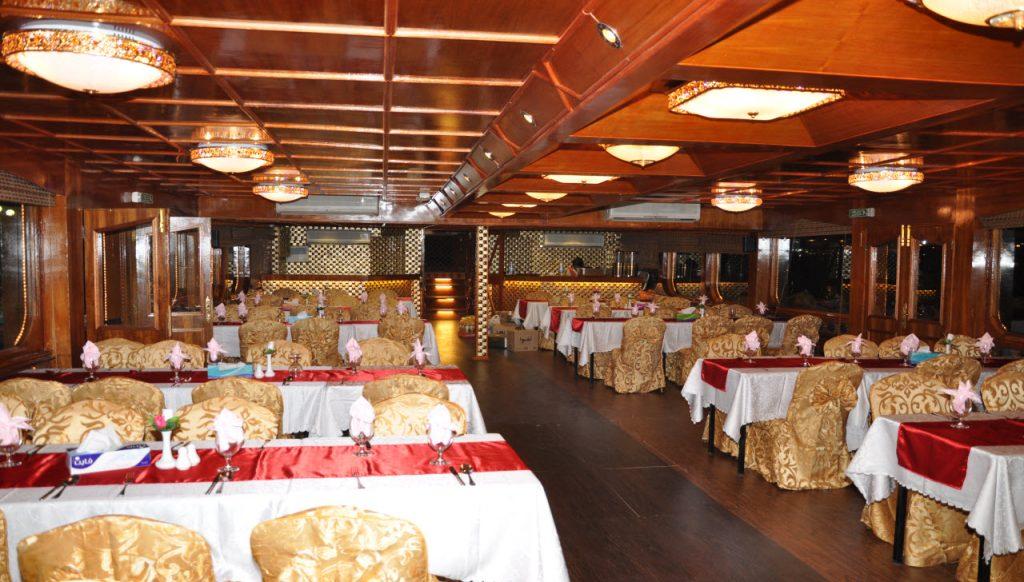 We welcome you to join us on a magical evening cruise on board an authentically restored traditional Arabian Dhow boat, in the company of distinguished travelers and accompanied by our unmatched hospitality and the experience of a lifetime. In front of you lie the magnificent views of Dubai like you have never seen before iconic sights of Deira and Bur Dubai after the sun has set, and the beautiful city has come to life right in front of your eyes. The slow paced cruise covers almost the whole of the Dubai creek, and in front of you lies a splendid buffet spread with some authentic emirati delicacies, gourmet accompaniments and some luscious desserts.
This is truly a never before seen way of taking in the iconic sights of Dubai, with a certain old world charm in your ambiance. Your experience is enhanced by the plethora of on board performances as part of the evening's entertainment, including live performances of traditional specialties like the Tanura dance shows.
Details of the Dhow cruise                                                                                                 
We shall arrange your pick up from your hotel or any point of your choosing.
The cruise is expected to last 2-3 hours.
You shall be welcomed on board with refreshments, along with one welcome drink, or tea/coffee.
Passengers are granted full access to both the Air-conditioned lower deck and also the open air upper deck. It is to be noted that smoking is permissible only when you are on the upper deck.
You will have access to an unlimited buffet that consists of an international menu, which has some of the choicest vegetarian and non-vegetarian dishes. Dinner shall be served as soon as we set sail.
The evening's entertainment arranged for you has a musical night, along with live performances that include local specialties like a Tanura dance show.
After we dock, we shall drop you back to your hotel or place of residence
Some things to note:
In case you are residing in a different Emirate, a pick-up and drop can be easily arranged for you, although a small surcharge is chargeable. Contact us if you have such a requirement.
We keep changing our menu for the buffet, and if you need to know that evening's spread, You may contact our office. In case, if you have any special dietary requirements, then kindly make sure to inform us while you make your booking.
Details of our cancellation policy:
If your booking is canceled more than 48 hours in advance, we shall not deduct any cancellation charges, and a full refund will be made.
If you cancel your booking in a window of 24 to 48 hours, a cancellation charge of 50% is applicable.
If you cancel your booking less than 24 hours before the cruise, no refund shall be made.
All refunds will be done within a period of 7 working days from date of cancellation.