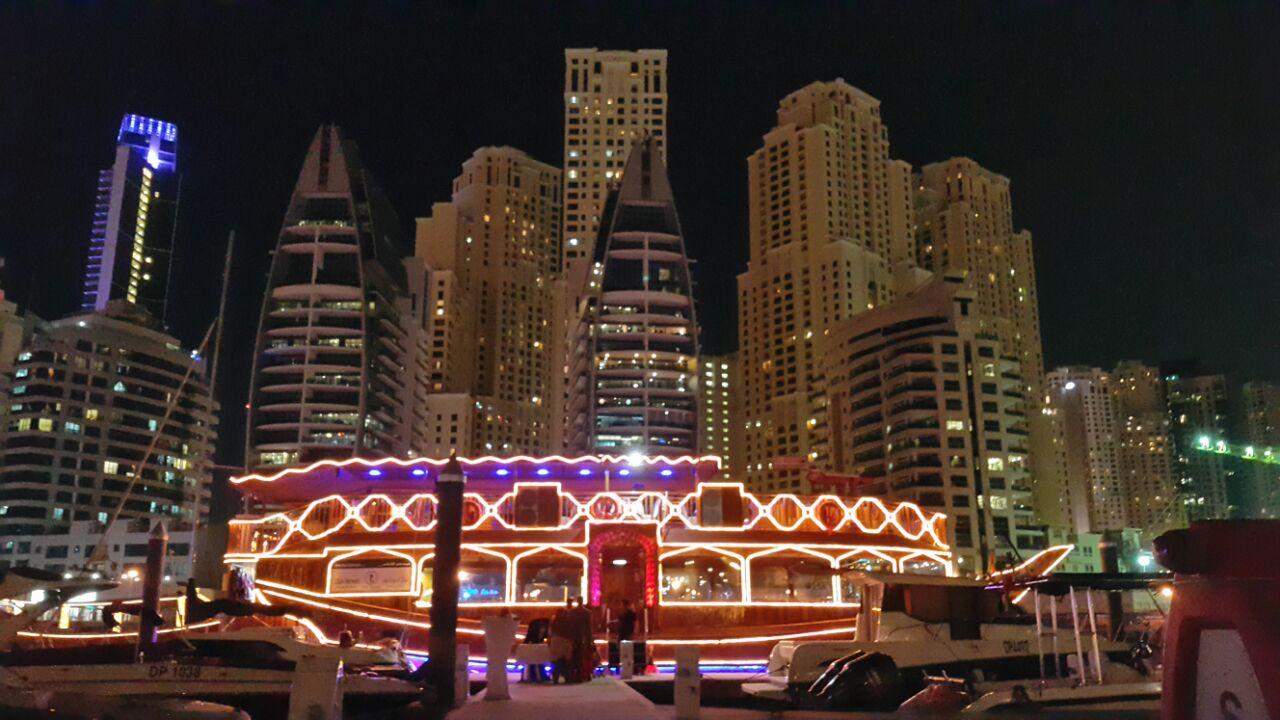 Want to have a completely different experience in Dubai, then take our cruise along the Dubai Marina. At first sight, it is easily understood why this dinner cruise on the Marina is one of the most popular packages we have on offer. The Dubai Marina has been modeled completely to mimic the beautiful canals and waterways of Venice.
Our cruise leaves from Dubai Marina Yacht club. It is on board a traditional wooden Dhow that has been restored and accommodated with all the modern facilities. Once you are on your way, you can take in all the beautiful sights of the modern wonder that is Dubai. Bask in the lavish views of the modernistic architecture, the splendid shopping centers, the luxurious residences, and all of this amongst the old world charm of an authentic Arabian Dhow.
Add to this an array of the choicest dishes in an international buffet spread, and magnificent on board performances by various artists and performers, and you have yourself an unparalleled tourist experience.
One thing to keep in mind is that, we keep alcohol and live entertainment off this tour during the month of Ramadan. All the other details remain the same.
Dhow cruise dubai marina deals
Dubai Marina Dhow Cruise dinner – AED 125 per person
Cleopatra Dhow cruise with shows – AED 99 Per person
Rikks Dinner Cruise Dubai with dinner and shows – AED 89 Per person
Rustar Floating Restaurant (Glass boat) – AED 250 Per person
Al khaleej Dhow cruise (Floating restaurant) – AED 75 Per person
Details of the Marina Dhow cruise
We will be picking you up from your hotel or place of residence.
The cruise commences at the Dubai Marina Yacht club, and will be about 2-3 hours long.
You are welcomed on-board with refreshments, your choice of welcome drink, or tea/coffee.
All guests are given full access to the Air-conditioned lower deck and the open air upper deck. However, guests are allowed to smoke only on the open air upper deck.
We have a buffet with an international dinner menu, including an exotic collection of the choicest vegetarian and non-vegetarian dishes.
The evening's entertainment consists of a musical night and performances by local talent, and specialties like the Tanura dance and Arabian dance show.
At the end of the cruise, we shall escort you back to your hotel or place of residence
Some things to note:
If you require a pick-up and drop from any of the other Emirates, we shall arrange it, albeit for a small extra fee. Contact us to make the requisite arrangements.
If you have any special dietary requirements, they can be accommodated upon beforehand request. Make sure to mention this while you make your booking with us.
Details of our cancellation policy:
If you cancel your trip more than 48 hours before your reservation, you shall be given a full refund.
If you cancel your trip within 24 to 48 hours from your reservation, please note that we shall deduct a cancellation charge of 50% of the amount.
If your trip is canceled less than 24 hours before your reservation, your complete amount is forfeited and no refund shall be processed.
Refunds will be done within a period of 7 working days from date of cancellation.