Dubai is a city in the United Arab Emirates well-known for shopping, modern architecture and nightlife view. There are so many aw-stuck architectural sensations like the Burj Al Arab, Hotel Atlantis, and Palm Jumeirah that are an evidence of Dubai's shining modernism. By reserving a sit on the Dhow cruise you can get a chance to see the nightlife of this wonderful city. You will be amazed by seeing the modern architecture and the night view of the city from a distance.  Definitely, you will fall in love with Dubai. Dubai trip will be incomplete if you don't go for the Dhow cruise trip.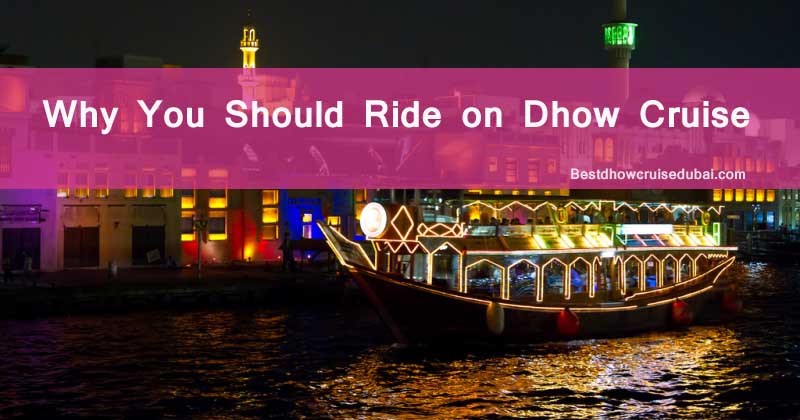 Dhow cruise Dubai trip will make your whole Dubai trip remarkable. It is the main charm of the trip. Kick off all worries and spend some time on Dhow cruise, enjoying the beauty away from the hustle and bustle of the city will surely make you feel calm and relaxed. Dhow cruise provides many facilities which make your journey delightful.
Below are some reasons why you should ride on Dhow cruise Dubai.
Best for sight-seeing
Spend some hours on dhow cruise and enjoy the beautiful sights of the wonderful city. You will surely call it one of your best travel experiences. The famous 7 star Burj Arab, The superb architectural design of the 5-star hotels and their private beaches, Jumeirah Beach residence and world-renowned Palm Jumeirah with the mystical Atlantis Hotel all these sights will definitely give you the awesome picture of modern Dubai.
Ambiance
The pleasing ambiance of the cruise will definitely catch your mind. The Arabian style and culture reflected in the design of architecture. The elegant architecture, interior design, lighting arrangements all together will surely make a pleasing mood. Traveling by a cruise in Dubai during sunset or under a night sky can be a fairy-tale experience.
Top class floating restaurant
You will get a chance to experience world's best floating restaurants. The welcoming style of these restaurants is amazing which will make you feel special. All types of foods are available like Indian, Chinese, continental, Italian and many more. Many vegetarian options are also available there. The Luxurious dhow cruises offer a lavish buffet meal. The food prepared by the chefs are of the 5-star hotel standards. They welcome their guests in a unique way with coffee and dates.
Best private party organizer
Dhow cruises are famous for family parties and private parties. It is a romantic place and surely brings a smile to your dear one's face. If you want to make your party awesome and outstanding then Dhow cruise is definitely the correct option.
Plan your new  year or birthday party and book your dhow cruise accordingly. Undoubtedly it will be your one of the best parties and can you make a statement wherever you go.
Entertainment
The most amazing thing is that you can enjoy the cultural programs and folk dances along with the wonderful food. Dances like belly dancing, Tanoura dancing which are the popular Arabian dance form will be performed for your entertainment. There are some other arrangements also like magic shows and puppet shows.
Conclusion
A ride on Dhow Cruise is a life time opportunity to enjoy with friends and family. Therefore you Dubai trip is incomplete without a Dhow cruise ride!