Dubai, the destination of choice for tourists visiting the middle east, has become a boiling pot of traditional and modern cultures. The city has a lot to offer and amaze its visitors, and that is why it is gaining fame amongst travellers. Whether it is marvelous architecture, or ancient markets that trade in spices, or sumptuous local cuisine that enriches one's palate, Dubai does not disappoint. But one area that Dubai has truly gained leaps and bounds is in the number of amusement parks and theme parks that the city has.
10 Best Theme Park of Dubai, UAE
It is unbelievable how so many theme parks have sprouted like mushrooms, each offering something unique for its guests. In this article, we outline the 10 best theme parks to visit in Dubai.
Bollywood Park Dubai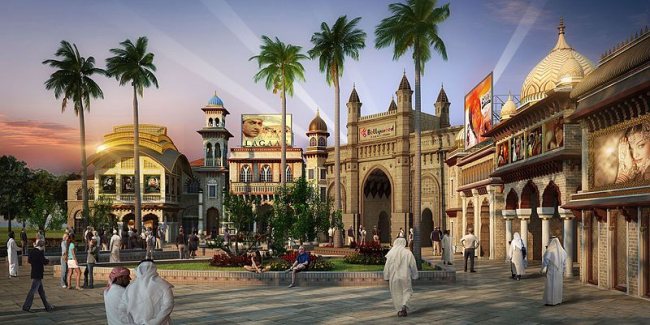 Bollywood Park Dubai is based on the Indian film industry based in Mumbai. The Bollywood park carries the passion of Bollywood, and also the replicas of the stars who make it come alive. The park is positioned right in the middle of Dubai Parks and Resorts, and is divided into five zones based on some of Bollywood's biggest hits.
Legoland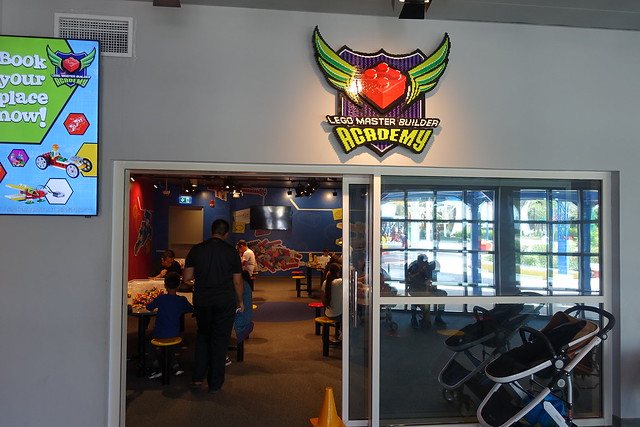 LEGOLAND Dubai is one of the most interesting theme parks, brought to you by LEGO, the world's foremost toy manufacturers. LEGOLAND Dubai contains a theme park and a water park. They have over 40 fantastic rides, many family-friendly attractions, and some very innovative play areas for kids. LEGOLAND Dubai is very close to Motiongate Dubai as well as Bollywood Park.
IMG World of Adventure
IMG Worlds of Adventure is touted to be the world's largest indoor theme park. Covering a massive area of 1.5 million square feet, the park sees a footfall of almost 20,000 guests every day. There are scintillating roller coasters, thrill rides, and many other attractions based on popular characters, including animatronic dinosaurs!
Ski Dubai Snow Park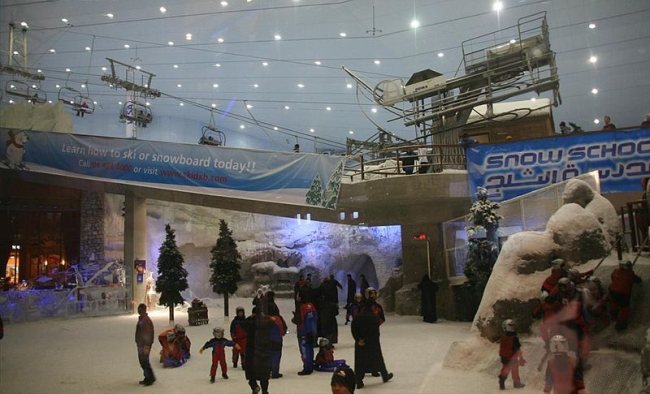 Ski Dubai is a sight to behold, in a place like Dubai. With temperatures maintained at -2° C, it is unbelievable that this place is located in the Mall of the Emirates! Ski Dubai is a massive space that covers 22,500 square meters and is kept covered in snow all year round. There are 5 slopes that vary in difficulty, height and gradient, and there is something for everyone here.
Motiongate Theme Park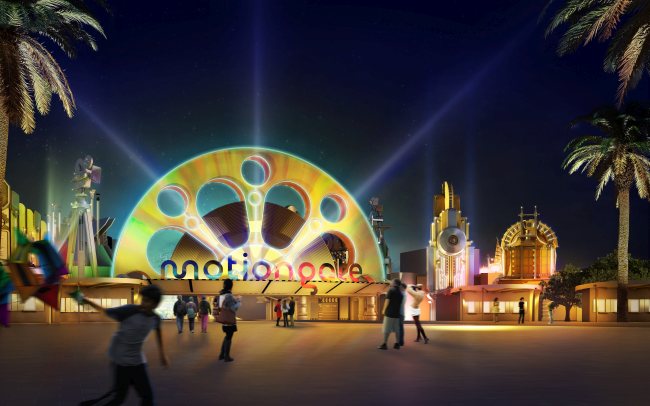 Motiongate Dubai is the largest Hollywood inspired theme park in the United Arab Emirates. The theme park is divided into four themed zones, each inspired by Hollywood's prominent franchises such as Sony's Columbia Pictures, Dream Works Animation, The Smurfs and Lionsgate. There are around 27 rides and attractions. This place can also be considered for celebrating Birthday party in Dubai.
Wild Wadi Waterpark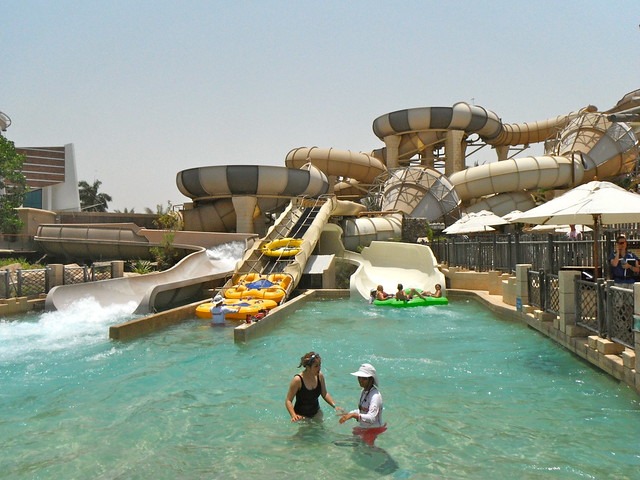 Situated across the gorgeous Burj Al Arab, Wild Wadi is the most popular water park in Dubai. It is themed around the Arabian folklore characterJuha, it it houses the largest wave pool in the Middle East – Breakers Bay. Wild Wadi has a collection of numerous rides and slides that are built for people of various ages. Their most famous ride is the Jumeirah Sceirah – the tallest and fastest free-fall water slide in the continent! It enables you to fly down a 120-meter slide, reaching speeds of up to 80 km/h!
Ferrari World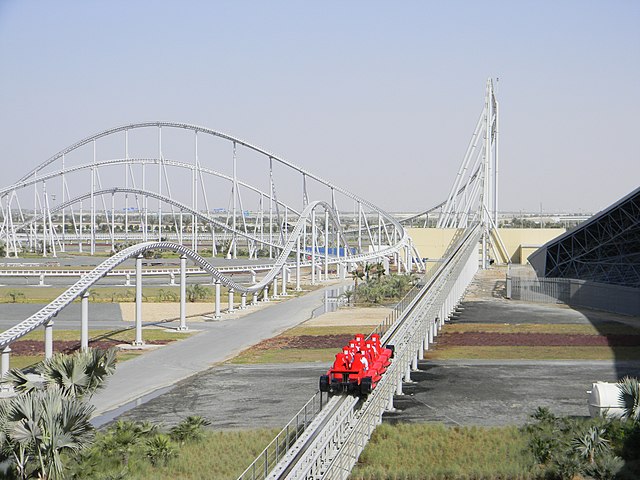 Enter the world of thrilling F1 races and flashy red cars, right here at Ferrari World. You have a long list of rides to get going, and you have the option to race your friends in racing simulators, or opt for a roller coaster ride that has the tallest non-inverting loop. Also on the menu is a virtual tour of the historic Ferrari factory in Maranell. It is because of these fascinating fixtures, that Ferrari World has been awarded nearly 14 industry awards and accolades, including the World Travel Awards , naming Ferrari World as the Middle East's Leading Tourist Attraction Award in 2015, and again in 2016.
Yas Waterworld
Yas Waterworld is considered one of the world's top 10 water parks. Spread across a humungous 37 acres, it is one of Dubai's favourite tourist attractions. It is host to the world's first hydro-magnetic tornado water slide, and the longest suspended roller coaster in the middle east!
Warner Bros. World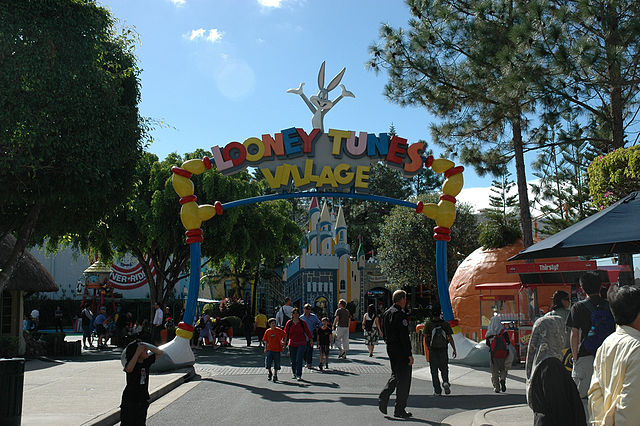 The Warner Bros. facility situated on Yas Island has a collection of 29 thrilling rides and live entertainment spread out across 6 different themed lands – There is Warner Bros. Plaza, Metropolis, Cartoon Junction, Gotham City, Bedrock and Dynamite Gulch. This indoor theme park is one of the largest indoor theme parks around the world and is positioned as a family friendly destination to be enjoyed by all age groups.
Laguna Waterpark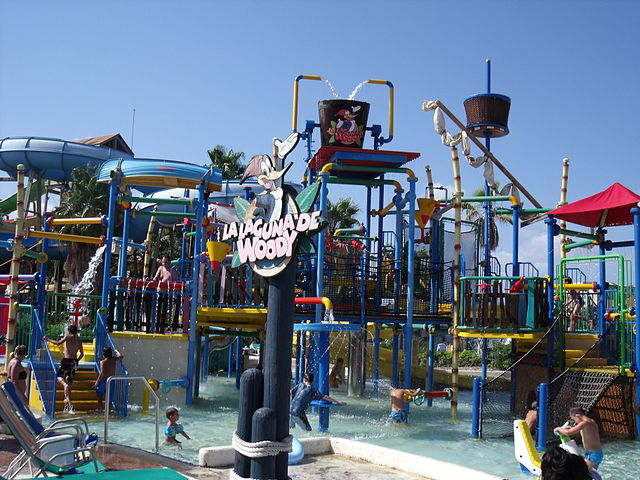 Dubai's latest attraction is the beach front waterpark named Laguna Water Park. This super fun waterpark is brimming with a number of flumes, slides and lots of wet waterpark fun. In addition to this, Laguna has more attractions like an infinity pool and the Middle East's first ever 180-degree surf park!